Nature Reports BIT Professor Wang Bo's Research Project Metal-organic Mix for Air Filters
  Nature, the international scientific journal published on February 1, 2017, reported Metal-organic Mix for Air Filters which is the research result of the application of metal-organic frameworks in air filters from Professor Wang Bo and his colleagues from School of Chemistry and Chemical Engineering of Beijing Institute of Technology (BIT).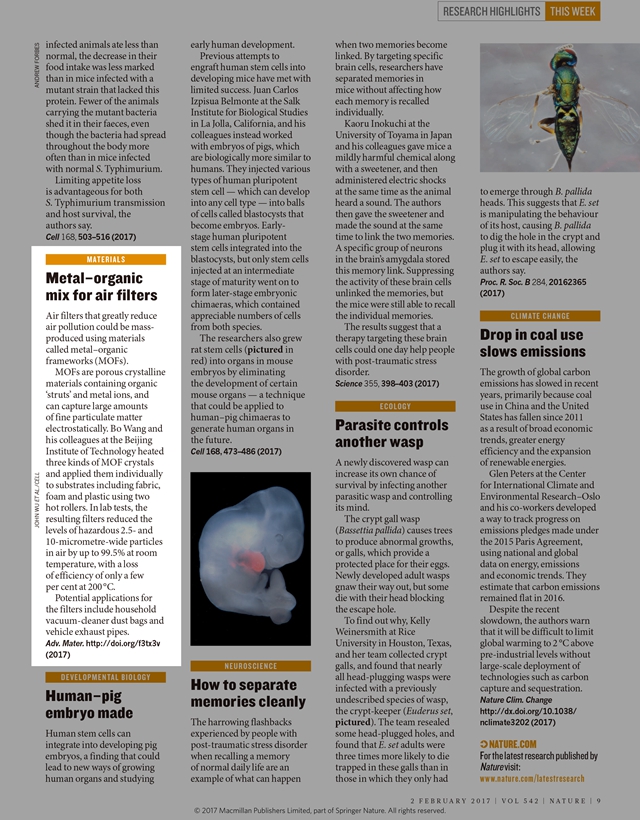 The report from Nature focused on the application of the material which could produce massive metal organic frameworks on air filters to reduce the air pollution. 
  Metalorganic frameworks are porous crystalline materials which are made of organic struts and metal ions. It can capture a lot of fine particulate matter by electrostatic absorption. BIT professor Wang Bo, heated 3 kinds of MOF crystalline compounds with his team, made them attached to various types of surfaces, including fabrics, foam and plastic material, achieved two hot rollers. 
  In lab tests, the resulting filters reduced the levels of hazardous 2.5- and 10-micrometer-wide particles in air by up to 99.5% at room temperature, with a loss of efficiency of only a few percent at 200℃. Besides, potential application for filters include household vacuum-cleaner dust bags and vehicle exhaust pipes.  
  Professor Wang Bo and his team, from BIT School of Chemistry and Chemical Engineering, has achieved relatively mature technology accumulation, and will devote to promoting technology transformations and industrialization. Besides, Advanced Science from Germany and some domestic media also delivered reports.
  Wang Bo was born in Baoji, Shanxi Province in 1982 and now is a professor, a doctoral supervisor and the administrative vice minister of School of Chemistry and Chemical Engineering of BIT. He is a winner of National Outstanding Youth Fund, a young talent of Thousand Talents Program, and he got the Chinese Chemical Youth Award in 2015. He has got the bachelor of science of Chemistry and Molecular Institute in Peking University, master's degree of Chemical Materials Science of Michigan in American, and doctor's degree of California-Los Angeles USA. 
  Now he is in charge of three projects of NFSC, and an important research of PLA General Armament Department, he also leads a project in National 973 Plan project. Wang Bo has published articles in Nature and Science. During his work in industrial field, he joined in the research on industrialized production of MOF, made a pilotscale experiment on over-ton MOF powder, and participated the industrialized research on MOF material molding catalyst and heavy truck car Methane storage.  
  At the end of 2011, he came back to China and entered School of Chemistry and Chemical Engineering of BIT in full time and was entitled BIT Out-standing middle-aged and young teacher. Since he works independently , he has published over 40 essays as a corresponding author on JACS(5), ANMEW. CHEM. INT. ED(2),ADV. MATER(4), CHEM. SCI.(2) etc. international academic journals, including 15 essays over 10 SCI impact factor and 30 essays over 4.0. All his SCI essays were cited over 5000 times and even up to over 1300 times. He was granted 3 patents in USA and 4 patents in China. His research results were recognized and concerned by experts home and abroad, also reported and commented by domestic and international professional journals for many times.  
  Based on the important requirements of our country, Professor Wang Bo focused on new metal organic materials and has obtained great success on the detection of dangerous compounds, safety protection and green energy storage.